VANCOUVER, BRITISH COLUMBIA / March 12, 2018 / Margaret Lake Diamonds Inc. (TSX.V: DIA.V / FSE: M85) ("Margaret Lake" or the "Company") is pleased to provide an exploration update on its Margaret Lake and Diagras properties located in the Northwest Territories.
Margaret Lake Property
The Company is pleased to report it has generated three high priority drill ready targets at its Margaret Lake Property (the "Property") from the ground geophysical program undertaken in 2017. Additionally, there is one other target from previous groundwork on the Property and two others targets from 2017 geophysics under consideration for possible drill testing. Preparations are now underway planning a drill program. The Company has already obtained regulatory approval to proceed with a drill program on the Property.
Figure 1. Margaret Lake Diamond Property Map and Drill Targets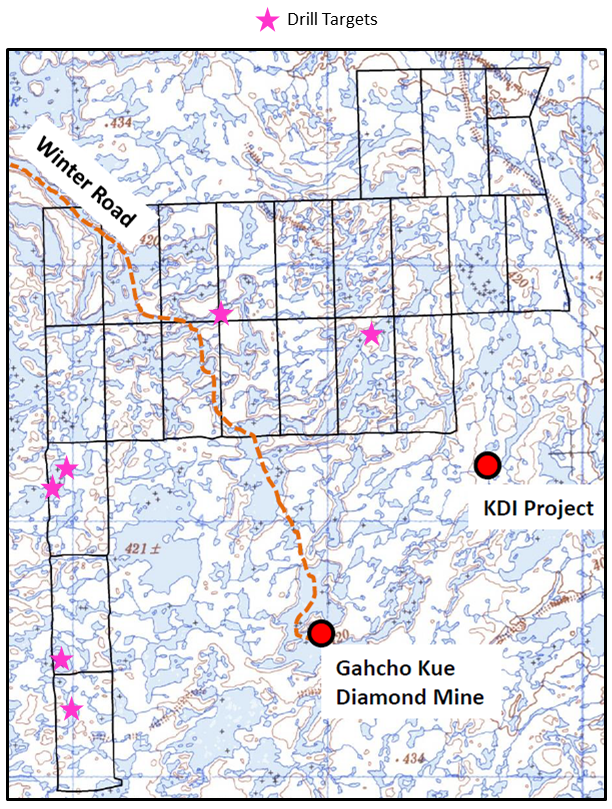 In the Spring of 2017, the Company completed a series of ground gravity and OhmMapper™ (ground electromagnetics) surveys over nine targets previously generated from a HeliFalcon™ airborne gravity gradiometer survey. Physical bathymetric surveys complemented the ground gravity surveys to allow for consideration of water column in data processing.
Three of the anomalies display a gravity low, bedrock conductor, or a combination of both, while a fourth anomaly has been identified from historic groundwork, which also displays coincident gravity and electromagnetic responses. These anomalies exhibit characteristics interpreted as having the potential to represent diamondiferous kimberlite bodies.
The Margaret Lake Property comprises 23 mineral claims totaling 23,199 hectares contiguous to the north and west of Kennady Diamonds Inc.'s Kelvin and Faraday projects. Kennady was successful in using similar ground gravity and OhmMapper™ surveys to reveal extensions to these kimberlites not displayed in magnetic surveys.
The Company holds a 100% interest in Margaret Lake and the Property is not subject to any underlying royalties. It is located 300 kilometers east-northeast of Yellowknife in the district of Mackenzie, Northwest Territories and just nine kilometers north of Canada's newest diamond mine, Gahcho Kué, a De Beers/Mountain Province Diamonds joint venture. Investors are cautioned that mineral deposits on adjacent properties are not indicative of mineral deposits on Margaret Lake.
Diagras Property
The Company also maintains a 60/40 Joint Venture (the "Joint Venture") on the Diagras Property ("Diagras") with Artic Star Exploration Corp. (TSX.V: ADD). Diagras is comprised of 23 claims totaling 18,699 hectares located in the prolific Lac de Gras diamond field, just 22 kilometers from the Davik and Ekati diamond mines.
Diagras is host to 13 known kimberlites that were initially discovered in the 1990's by De Beers. Diagras sits along a wide corridor of diamond deposits that include numerous kimberlite pipes currently being mined or developed for future mining, including the A21, A418, A154S, A154N, Lynx, Misery, and Jay kimberlites. Each of the >1 carat per tonne diamond-bearing kimberlites exists along a 20-kilometer structural trend.
Diagras Exploration Strategy
Joint Venture field crews completed a ground geophysical program at Diagras in the spring of 2017 utilizing ground magnetics (129-line kilometers), ground gravity (23-line kilometers) and ground electromagnetics (22-line kilometers) techniques. The survey program was comprised of 11 separate geophysical surveys to further evaluate areas of known kimberlites as well as evaluate partially defined targets generated from public domain data.
Figure 2. Diagras Diamond Property Map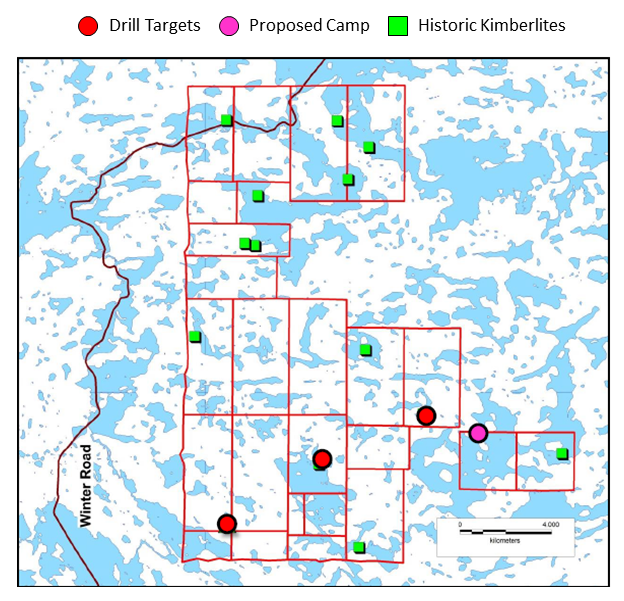 Margaret Lake, as manager of the Joint Venture in conjunction with Arctic Star Exploration, believes there is the potential to apply detailed, modern ground geophysical techniques in anticipation of defining additional kimberlite(s) or kimberlite phases that may not have been evaluated in the past. This approach has been successful elsewhere, such as at the Kennady Lake project, with the additional discoveries of diamondiferous kimberlites at Kelvin and Faraday. The Joint Venture partners believe that applying this successful approach used on other properties has provided data gathered during the ground geophysical surveys completed in the spring of 2017 that is indicative of kimberlite phases which have not yet been proven through drilling. At the Jack Pine kimberlite target, all three geophysical methods (ground magnetics, EM, and gravity) successfully extended the anomalous area beyond the currently known kimberlite footprint in defining additional possible kimberlite phases.
The next phase of evaluation at Diagras will be to expand the ground geophysical program to cover areas proximal to the other known, previously defined kimberlites in order to expand the number of drill ready targets. The Company has received regulatory approval to proceed with a drill program at Diagras.
Qualified Person
The technical data in this news release has been reviewed and approved by Mark Fields, P.Geo., a Qualified Person under the provisions of National Instrument 43-101.